How To Organise Your Self-Storage Unit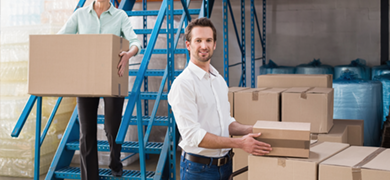 A self-storage unit is often used by individuals or businesses that require extra space or need to ensure important documents are kept safe. However, although storage units provide a safe place for your valued possessions, if they aren't packed and organised effectively, they can make it more difficult and time consuming to access the items you need at a later time.
To help you make the most out of your unit, we've put together four to tips on how to organise your self-storage unit.
Tips for organising your self-storage unit
As you're packing your belongings, make sure you keep an inventory of the items that are being packed and which box each item has been put in to. This will make it easier to find the items you need quickly, without having to search through several boxes. Once written, stick a copy of the inventory inside the storage unit.
Label each box with its contents
When packing your items into boxes, make sure that you label each box and write on what it contains. Use a thick black marker so the labelling is clear and individually list each item inside the box. This will prevent you having to search through several boxes if you ever need to find a specific item. Furthermore, if some of the items you are packing are delicate, we advise wrapping them in bubble wrap to stop them getting damaged when being moved and stacked.
The layout of your storage unit can determine how easy it is to access the things you need in future. Using a simple layout will help you keep track of where everything is and make sure your items are easily accessible. Stack the boxes containing the items you use the least at the back of the storage unit and keep the ones you need access to at the front of the unit. If you have a large storage unit, keeping a rough map of the layout will help you remember where everything is inside the unit.
Make sure that you leave some space when packing your storage unit in case you need to store more boxes in future. This will prevent you needing to hire another storage unit if you get an influx of items that need to be stored. One of the ways you can save space is by taking advantage of hollow furniture. If you have sets of drawers and other hollow furniture pieces, fill the empty drawers with smaller items. This saves space and ensures any small possessions are safely kept together.
Sign up for your self-storage unit
Whether you're in need of a large self-storage unit to store home furniture, or whether you need a small space to keep business materials, we have a self-storage unit for you.
At Big Box Small Box, we have 50 storage units in a variety of sizes that are ideal for personal and commercial use. Fitted with 24-hour CCTV and with flexible access times during opening hours, our storage units are suitable for people with the busiest of schedules.
If you would like more information about our self-storage units, or if you need advice on which size would best suit you, we're keen to hear from you.
You can call us on 01254 677902 or email us at sales@bigboxsmallboxstorage.com and we'll be happy to help you.