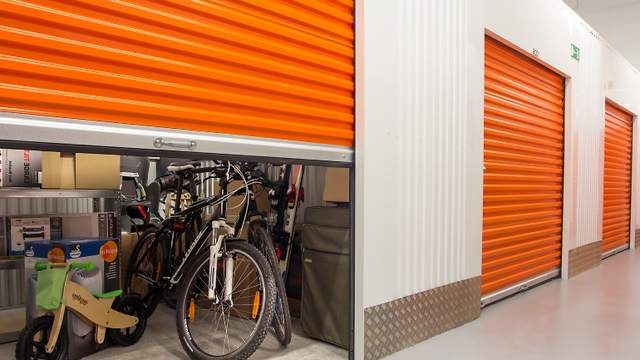 With flexible access hours and reasonable pricing, our storage units in Burnley and surrounding areas are perfect for those with excess items that they need to be stored safely and securely.
We have 50 storage units available at our Blackburn branch, ranging from 25sqft through to 100sqft, giving you the option of a range of units depending on what items you need to be stored.
Alongside our safe and secure units, we also offer a range of packing options, so if you need a one stop shop for all things storage look no further than Big Box Little Box.
Affordable storage units in Burnley
We've worked in the storage industry for years, so we understand know clients and their requirements like the back of our hands. We know that costs need to be low, but quality and security need to be high, to keep our customers happy.
We've tailored our pricing to ensure that all our customers can make the most of our storage units without having to break the bank. Unlike other city centre providers, we don't have sales targets and overheads to meet – we are a local company for local people and this reflects in both our pricing and our customer service.
Nothing is too much trouble for our team, we offer great deals and can offer our expertise on storage units where possible. We like to think that we've answered every question there is to ask about storage, so we are confident that we can offer some of the best advice and storage units in the Burnley area.
We don't want our customers to feel that they are signing up to a life sentence by renting a unit from us either, so we don't ask our clients to commit for long periods of time – unless they want to.
All we ask for is a minimum one-month commitment and the first payment in advance, after that you have the flexibility to cancel whenever you like, with no hassle.
We also offer great discounts for students and on multiple unit bookings, so if either of those apply to you be sure to mention to our team to get the best possible offer.
Common reasons for renting a storage unit
We have two main types of clients at Big Box Small Box:
Personal Self-Storage
Most common for those who are moving to a new house, downsizing or renovating their property. Our personal self-storage clients usually occupy one of our units to temporarily store some furniture, clothing or other household items that they don't have space for.
We have many personal clients who need a bit of extra space to safely store their personal belongings on both a short and long-term basis.
We also have many clients who have a hobby that requires a large amount of equipment, such as golfing or fishing, and they just don't have the room at home to store their items.
Business Storage
We have several business clients who need a safe and secure storage unit to store business related items such as excess office furniture, archive files and even overflow stock from a large order.
Often renting an office space can be very expensive, so many businesses are now making the choice to hire a cost-effective storage unit to hold their essential documents and stock that they don't have space for in their existing office.
We also work with many online businesses who don't want to have to rent an office at all, so instead, they store their stock in one of our units and have the flexibility to work from home or wherever they like!
Do you require a storage unit in Burnley?
If you need a storage unit in Burnley and surrounding areas, we can help.
To speak to one of our friendly team call us on 01254 677902 and we'll be happy to answer any questions you may have about our storage units.